Redesigning Blended Courses Project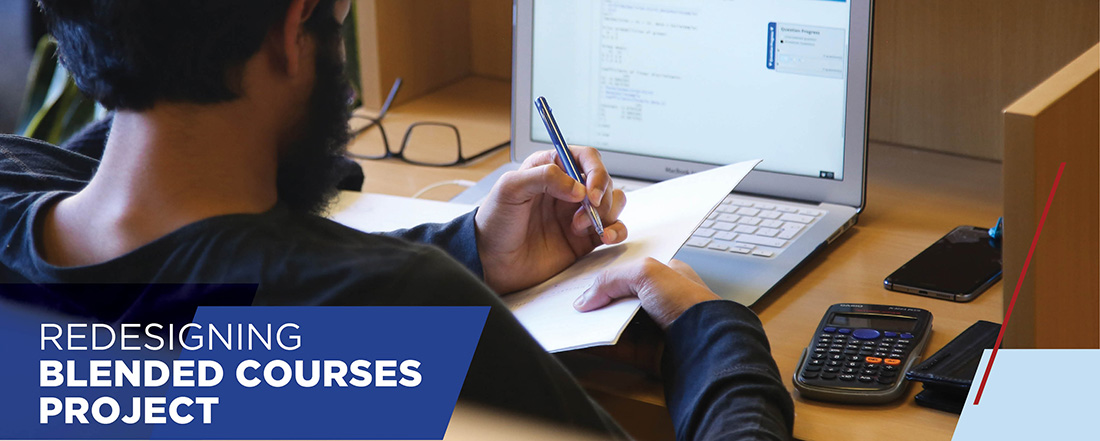 Strategically aligned to UCT's Vision 2030, the Redesigning Blended Courses Project aims to assist the Teaching and Learning community at UCT to develop learning pathways that effectively integrate on-campus and online modes (Blended Learning).  
Applying the three principles of Universal Design for Learning (UDL), the approach focuses on designing inclusive digitally-enabled education that:
Provide multiple means of Representation: present information and content in different ways  
Provide multiple means for Action and Expression: differentiate the ways that students can express what they know
Provide multiple means of Engagement: stimulate interest and motivation for learning
This approach enables students with diverse learning needs to become expert learners that are able to differentiate ways to express the knowledge they've gained, as well as deepen their engagement and interest in the world around them.
---
Acknowledgement/Funding Support
The promotion of inclusive digitally-enabled education through the redesign of blended courses project is a UCT Project supported by the Department of Higher Education and Training (DHET) through University Capacity Development Grants (2021-2023)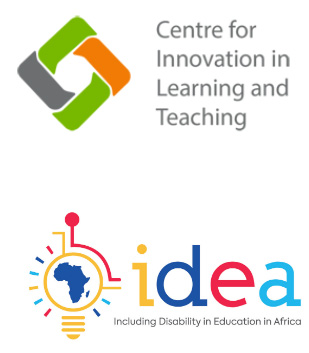 The project is led by the Centre for Innovation in Teaching and Learning (CILT) and draws on expertise locally and internationally through partnering with the Including Disability in Education in Africa research unit (IDEA) for assisting with the development of flexible and locally appropriate course models. 
IDEA is generating materials for advocacy promoting asset-based pedagogies and focusing on developing students as expert learners.
The Disability Services Unit also sits on the project committee and offers advice and resources on the accessibility considerations in technology for students with disabilities. 
The project aims to make use of existing resources, to develop support for teaching staff in redesigning courses and promoting the use of UDL principles in a variety of blended course designs. 
Project Team
Project Lead: Janet Small (Janet.Small@uct.ac.za ) 
UDL Training and Advocacy Coordinator: Thula Vilakati (Thula.Vilakati@uct.ac.za) 
Project Manager: Tess Cartmill (Tess.Cartmill@uct.ac.za)
CILT: Lauren Butler, Widad Sirkhotte, Thomas King, Nawaal Deane 
IDEA: Judith McKenzie, Chantal Samuels, Amani Karisa, Ike Nkwane 
Disability Services: Denise Oldham
Meet our Ed Tech Advisors
Our Education Technology Advisors (EdTech Advisors) are a group of forward-thinking senior postgraduate students. They have been trained by CILT Learning Designers to support teaching staff to create inclusive, accessible and multi-media rich learning materials and activities, based on UDL principles, aimed at enhancing student access and inclusion.
 

A Master's in Education student, Abduraoaf has a working knowledge of designing lessons, assessment creation and establishing learning pathways for open source curriculum development.  He has a keen interest in Learning Design and is highly passionate about creating new learning pathways that create access and inclusivity.

Read more  

 

 

Ayesha is currently studying towards her Master's degree in Conservation Biology and is highly  motivated by the innovations unfolding in the scientific teaching and learning space. Her intuitive nature lends her the ability to be technologically fluent by possessing requisite digital literacies. She is open to leveraging educational technological advances while working on building courses on Vula by creating accessible and inclusive web-based educational activities that foster active student engagement, and a further passion for the continued exploration of environmental and ecological research.

Read more

 

 

 

 

 

Kristin is an experienced educator and tutor who is currently pursuing a MEd Curriculum Studies. Kristin is multi-skilled in teaching, academic writing, science education, and learning design.

Read more

 

 

 

 

 

 

 

 

Nthabiseng Magamola is currently pursuing a PGDip, Management in Entrepreneurship specialisation. She has extensive experience in various industries, including working as a Head Teacher Assistant for the Gauteng Department of Basic Education for over 3 years. She also worked as a Deputy Information Officer for a BBBEE Verification Agency. She strongly believes in education for empowerment and its positive impact on society hence the importance of ensuring that learning spaces are inclusive for everyone.

 

 

 

 

 

 

 

Kevin is a final year Master's level student in Corporate Finance and Valuations at UCT. He also has two years' experience in financial services consulting in Uganda spread across Agriculture & Agribusiness, Education, Technology, and Health sectors. At UCT, He works as a Finance Tutor for the Department of Finance and Tax and, more recently, as an EdTech Advisor at the CILT. He has found teaching and training to be rewarding experiences throughout his work and studies. With CILT, he hopes to create a positive long-lasting impact on the countless students that will eventually rely on blended courses including online learning through Amathuba for many years to come to facilitate their educational goals.

 

 

 

 

 

 

Joseph is an LLM Intellectual Property (IP) Law candidate and an LL.B cum laude graduate from the University of Fort Hare. He is an experienced tutor who has had the privilege of tutoring under the digital learning dispensation. His keen interests are in language and writing, referencing, researching, graphic designing, sound production, document manipulation, troubleshooting and material design. As an EdTech Advisor, Joseph aims to use his skill set to improve the digital learning experience for students, per the principles of the Universal Design for Learning descriptive framework. He draws the motivation of applying digital solutions from some of his work, including his research thesis, which examines the lack of enforcement of IP rights and assesses whether blockchain and artificial intelligence are suitable to address the enforcement challenges. Joseph is a creative problem solver who can analyze a problem and then provide a well-thought out solution.

 

 

 

 

Sibusiso Maneli is currently completing his MPhil in Development Policy and Practice, has a working background in digital academic literacy but also has international leadership development experience. For example leadership in higher education experience through the RANEPA's (Russian Presidential Academy for National Economics and Public Administration) Building Global Leaders' Summit program. Sibusiso, he also a passionate about development, inclusive education, and integration. He hopes to leverage his skills to foster inclusivity and development, especially through educational technologies and web-based educational infrastructure at UCT.

 

 

 

 

 

 
---
Resources
ENABLE framework for UDL in learning design
Promoting UDL principles and strategies for inclusive learning: The Redesigning Blended Courses Project at the University of Cape Town
INCLUDE Webinar recording: UCT: Promoting UDL principles and strategies for inclusive learning  
Course design quality checklist is organised into six areas: orientation, content and organisation, accessibility, engagement and community, assessment and feedback and evaluation. The checklist is underpinned by various educational frameworks, including Universal Design for Learning, constructive alignment, and UCT's teaching and learning frameworks and policies. The purpose of this checklist is to identify elements in your course that can be included or improved upon in order to enhance students' learning experiences. 
CILT webinar recording: Emeritus Professor Vivienne Bozalek - Attuning to difference for a justice- to-come  
CILT webinar recording: Dr Taskeen Adam - Approaches to designing justice orientated MOOCs 
CILT webinar recording: Dr Benita Moolman - Student Engagement at the Nexus of Learning, Education and Justice Visibility and Voice 
CILT webinar recording: Panel discussion lead by Benedict Leteane - The potential of UDL in dismantling academic ableism for accessibility and inclusion 
UCT Teaching and Learning Conference 2022 recording: Blending with Purpose What works in Redesigning Blended Courses for Active Student Engagement  
UCT Teaching and Learning Conference 2022 recording: Redesigning an inclusive education course to promote access, participation and success for all