CILT-Supported vs self-service Vula to Amathuba Course migration
Phase 2
The first phase of the Vula to Amathuba migration is complete, with all 1st year courses successfully running on Amathuba,  UCT's new learning platform. We are currently in Phase 2 of the migration. During this phase, most 2nd and 3rd year courses will migrate to Amathuba and be taught using the platform in 2024.
2nd and 3rd year courses will be taught on Amathuba in 2024 and CILT will migrate courses in the several batches. The remainder of courses will migrate during 2024 for teaching in 2025.
Table 1: Phase 2 migration timelines – 2nd and 3rd year courses 

CILT-Supported Course Migration  
Your Vula site will be auto-converted to a new course site on Amathuba.  CILT will provide flexible support options, enabling you to transition from Vula to Amathuba with ease. Join one of our scheduled training sessions to learn how to best utilise the new platform or access the self-guided training course in Amathuba.  
The default Migration option is Option 2. Option 1 will only be available on request.  
Once a course has been converted from Vula, the course convenors will be contacted by CILT learning designers, during the scheduled conversion periods – see the table above.  If migration Option 1 is selected, Academic staff will need to make time to meet with learning designers during this time period and rework and check their sites before they start teaching in 2024.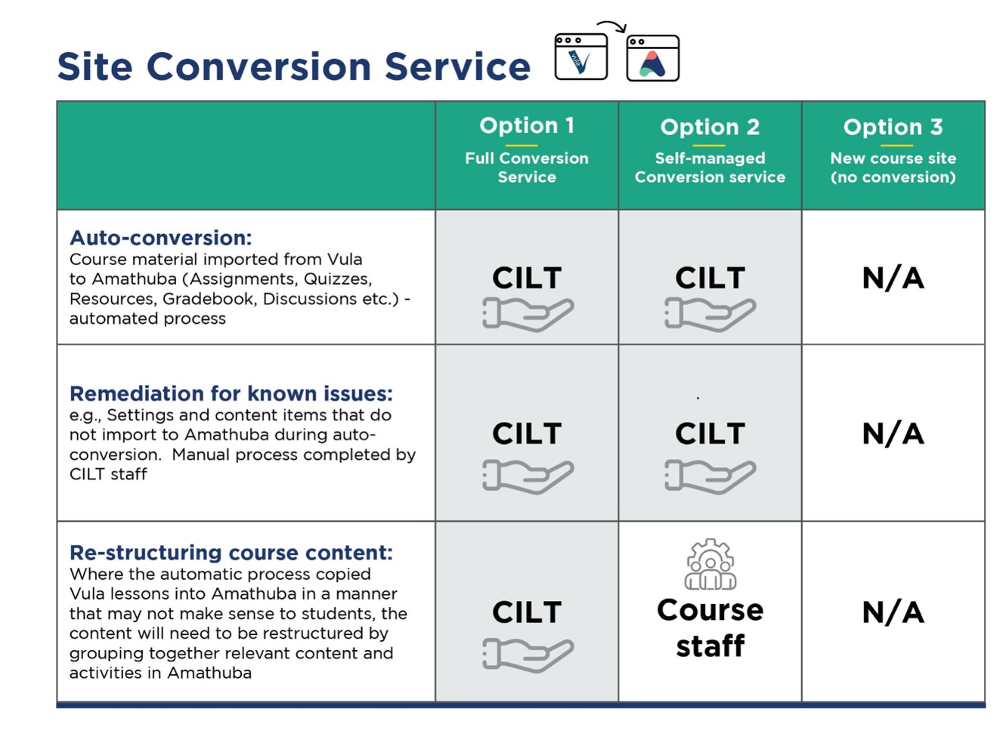 If you choose to convert your site by yourself
The site conversion service will apply to all Phase 2 courses unless you notify us that you would like to do it yourself.  
The auto-conversion will copy your Vula site content including Announcements, Assignments, Discussions, Gradebook, Lessons, Resources, Rubrics and Tests & Quizzes across into an Amathuba reference site.   
Your new blank course site will be created, and you will copy your content from the reference site.  
A conversion report will be generated providing specific recommendations for setting up your Amathuba site.  
You can access CILT adhoc support and documentation as you work on the migration. 
You can check the CILT website for the Amathuba training dates to become familiar with the new platform before you start teaching. 
Visit the Self-service migration page for more information.  
CILT Support   
A site conversion service where learning designers will reproduce your course materials on Amathuba upon request (Option 1)  
Live, in-person training sessions taking you step-by-step through the process of learning to use the Amathuba platform  
A self-guided Amathuba course as an alternative to the live training session   
Quick guides detailing the new Amathuba processes and tools to be used as stand-alone resources or to supplement the training    
Scheduled one-on-one consultations to step you through creating content on your Amathuba course or work through a teaching and learning challenge with a learning designer   
Helpdesk services through cilt-helpdesk@uct.ac.za or 021 650 5500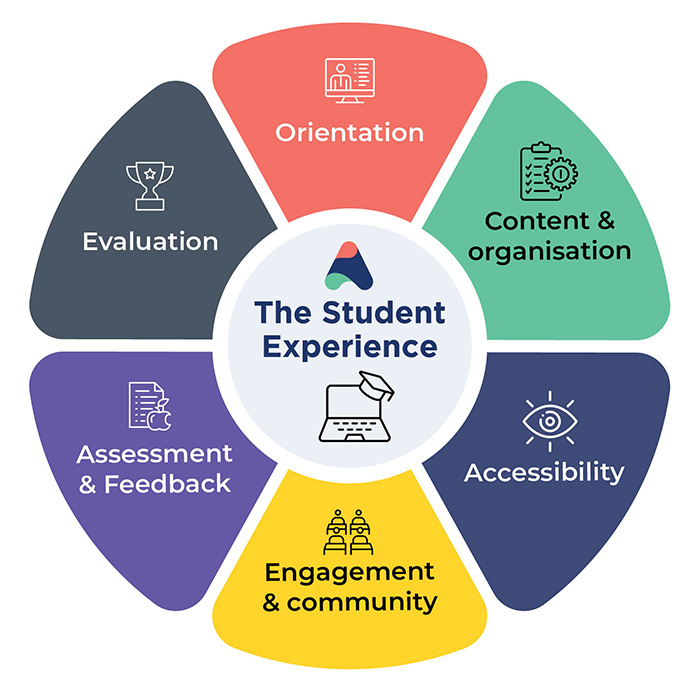 We've created a course design checklist, that you can use to review your course in six areas: orientation, content and organisation, accessibility, engagement and community, assessment and feedback and evaluation. Our checklist is underpinned by various educational frameworks, including Universal Design for Learning, constructive alignment, and UCT's teaching and learning frameworks and policies. The purpose of this checklist is to identify elements in your course that can be included or improved upon in order to enhance students' learning experiences. The checklist poses a series of questions that you can respond to and comment on to monitor the quality of your course design. If you have any questions about the checklist, specific items, or would like to discuss implementing any of the prompts, please book a consultation with a learning designer.