Lecture recording (sometimes referred to as lecture capture) is the process of recording a lecture to allow students to play back all or part of the lecture later as a review or self-study resource. For a brief introduction, see 7 Things You Should Know About Lecture Capture from the Educause Learning Initiative.
Lecture recording is not a replacement for face-to-face teaching or interaction with students, but can be an important supplementary resource. Students benefit by being able to:
Pay closer attention during the lecture (freed from detailed note-taking).

Review content in their own time, in their own location and with their peers.

Catch up on missed lectures.

Improve understanding of the material.

Provide richer content and improved access to content for students with disabilities.
At UCT, the lecture recording service is limited to a number of venues, managed and supported by CILT and ICTS. Senate approved the new UCT Lecture Recording Policy in September 2017. You can read the policy here.
Lecture recording is currently available in 124 venues across campus. List of equipped venues.
Each venue is equipped with:
A lapel/podium microphone to record audio. Most venues also have wide-field microphones.
A USB Camera or an IP camera to record the lecture
A VGA and HDMI cable to record lecture slides or a presentation from either your laptop or the computer in the lecture venue
Lecture recording is a self-service process managed through your Vula site. If you do not yet have a Vula site you can find out how to create a project site or course site in the Vula Help docs. For further instructions on setting up your recordings, please see the steps below: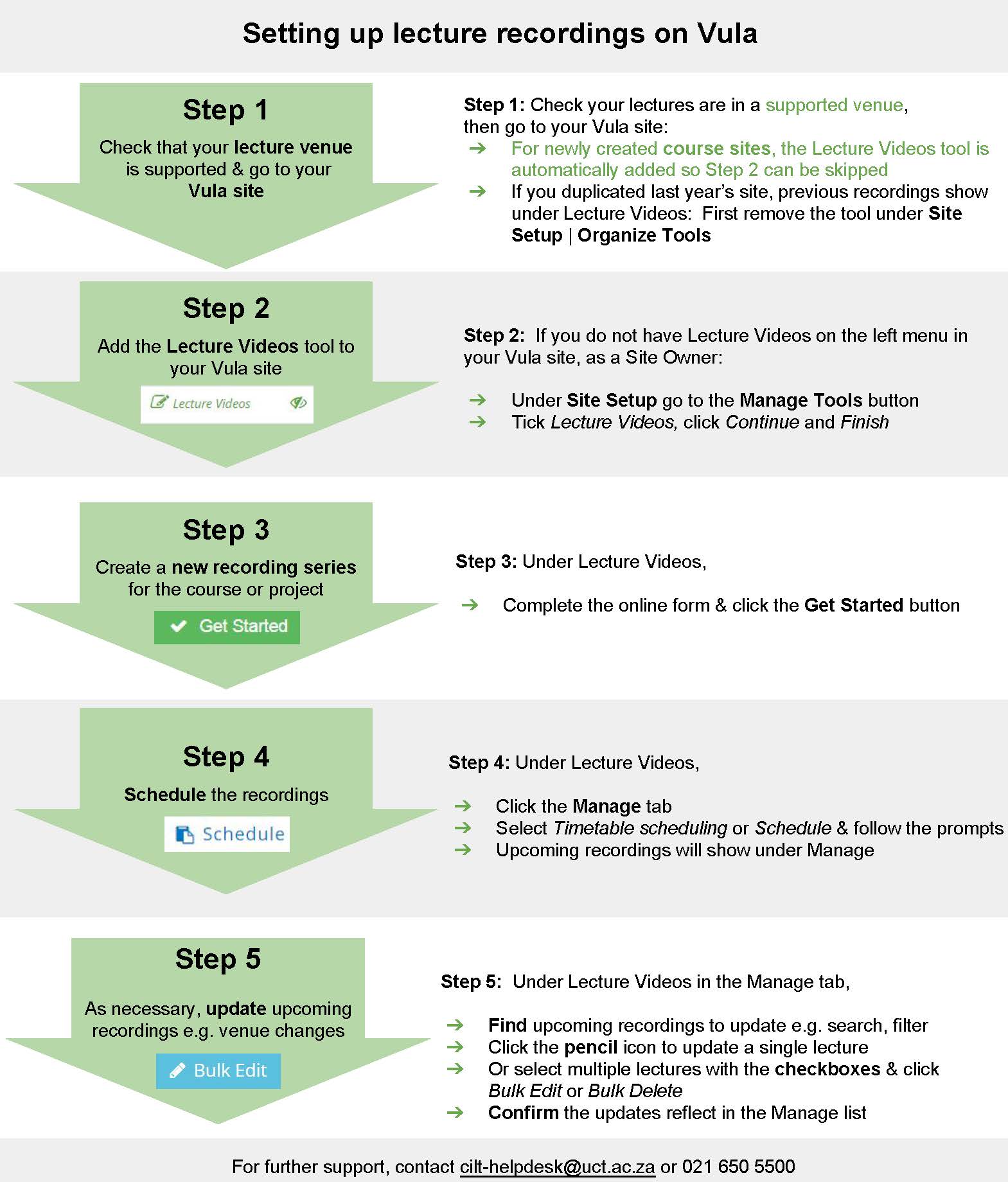 Setting up lecture recordings on Amathuba.
Through the process of self-scheduling, the series owner undertakes responsibility to (a) inform students and other participants that sessions are recorded and (b) obtain recording consent in advance from all presenters for all scheduled recordings.
Any recordings for timetabled lectures where the recording information matches the course timetable information in the UCT venue booking system (Syllabus+), will be published to the Vula course site. Series owners are still requested to retain consent for their own records. 
If consent is not provided, the series owner (or responsible other) should cancel the recording in Vula prior to the event. If a recording is published without consent, please email cilt-helpdesk@uct.ac.za to request the recording to be removed.
As a presenter, what do I need to do in the venue?
Audio: If the venue is equipped for voice amplification, you will need to use the podium microphone or lapel microphone. More information on using the venue lapel microphones is available on the venue information page.
Venues without voice amplification systems have microphones positioned to record presenters speaking clearly at the front of the venue.
In venues which have voice amplification but also have wide-field microphones, it is preferable to use the lapel or podium microphone for best-quality audio, but speakers not using a microphone will still be recorded.
Presentation: Only the image sent to the in-venue data projector will be recorded. If you bring and use your own data projector, then the presentation will not be recorded.
Video: Cameras are positioned to face the front of the lecture room, and usually have a fixed field of view.  In this case, if you move outside the field of view, you will not be recorded. There are also a number of venues that have cameras that track motion. Field of view pics and motion tracking capabilities of cameras are listed  on the venue information page.  
What else do I need to know about the lecture recording process?
Once lectures have been recorded, they are placed in a hold queue where they are reviewed by the lecture recording team for any technical or consent issues. Series owners will be informed if there are technical reasons that the recording cannot be published. If the recordings is outside a timetabled lecture slot, or is for a public series, the lecture recording team would request presenter consent before the recording is published.
The videos are then trimmed to remove any preamble so that recordings do not include necessary "dead time" before or after the lecture. Videos are then published to the corresponding Vula course site.
If there are no outstanding consent or technical issues, recordings will generally be reviewed and published within one working day.
What does the published recording look like?
Here is a screenshot of a published recording:

Note that while the camera view can be expanded to fill the screen on playback, in some venues it may not be possible to clearly read writing on the blackboards.
Who has access to the recordings?
The series owner (with the consent of presenters) may choose to make the recordings available to:
only members of the Vula site for the course, or

the general public (with a license).
The preferred option is selected upon creating the recording series. If the public option is selected, you can obtain the link for recording by right-clicking it in Vula under Lecture Videos in the list of recordings, and opening in a new window.
More information
For other questions on how lecture recording works, see FAQs. To maximise the benefit of lecture recording, check these pages for practical recommendations and the case for lecture recording.
For further information or queries, email the CILT helpdesk at cilt-helpdesk@uct.ac.za, contact us by phone on 021 650 5500 or visit us in Room 7.56, Level 7, PD Hahn Building.